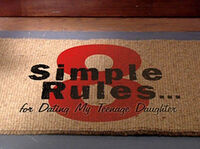 Episodes of the TV show 8 Simple Rules.
Season 1 Astral Media Family Channel Canada Sneak Peek December 1, 2005 Series Premiere December 5, 2005 & Season Finale January 16, 2006
[
]
Episodes in USA
Episodes in Canada
Title
Directed by
Written by
Original air date

USA and Canada

Prod.
 

code

1
1
"Pilot"
Gil Junger
Tracy Gamble
September 17, 2002

December 1, 2005 Sneak Peek Family Channel Canada

December 5, 2005 Series Premiere Family Channel Canada

101
Cate decides to go back to work as a nurse and Paul has to contend with his eldest daughter, Bridget, dating Kyle, the son of his co-worker Tommy. Paul and Cate are shocked to learn later on that Kerry, their other daughter, has been suspended from school for skipping class because she has previously been a perfect student.
2
4
"Wall of Shame"
James Widdoes
Story by : W. Bruce Cameron


Teleplay by : Mike Langworthy

September 24, 2002

December 7, 2005

104, SC R-133
Paul is eager to watch the big football game of Michigan vs. Ohio State (it's Michigan fans Easter holiday according to him). Cate leaves for the day for a nursing seminar because she's interested in possibly getting her Master's degree, leaving Paul in charge of the kids. Bridget is accused of shoplifting and Paul refuses to believe her when she says she's innocent. He later listens to her story and believes her. Kerry is upset after seeing a circus ad in the paper because it's animal cruelty to her. Because of Bridget and Kerry's interruptions, Paul ends up missing almost the entire game.
3
5
"Bridget's First Job"
James Widdoes
Bill Daly
October 1, 2002

December 8, 2005

105, SC R-134
After seeing how much money Bridget spends on keeping up with the latest fashions, Paul and Cate decide it's time for her to get a job to learn the value of a dollar. Bridget gets a job in the mall at a store called Strip Rags and her parents are very impressed at how well she is managing it. But when Bridget gets her first paycheck, she finds out she has spent 400 dollars more than she earned. In a hurry to pay it back, she uses her emergency credit card. Paul and Cate find out after Cate can't buy gas because of the 500 dollar charge on the credit. Bridget explains her situation and Paul expresses his disappointment in her, but says that nonetheless, he's proud of her for owning up to what she did. Paul and Cate say that Bridget can pay them back for the credit card at a slow pace.
4
6
"Wings"
James Widdoes
Story by : W. Bruce Cameron


Teleplay by : Bill Daly & Bonnie Kallman

October 8, 2002

December 12, 2005

106, SC R-135
Bridget wants desperately to take her driver's test, but Paul keeps making excuses as to why she can't. Kerry decides to enter an art contest, but is devastated when she's rejected. Paul goes to find out why and one of the judges says that while Kerry is very talented, her artwork was not suitable for the contest. Cate later on takes Bridget to her driving test, to which Paul reluctantly agrees. Bridget comes back home, a newly licensed Michigan driver. As she and Kerry leave to go to the store, Paul watches them from the garage and gives a little wave, saying "Off you go". (That part was included as the last clip in a montage of John Ritter at the end of his last episode.)
5
3
"Son-in-Law"
James Widdoes
Story by : W. Bruce Cameron


Teleplay by : Tracy Gamble & Martin Weiss

October 15, 2002

December 6, 2005

103, SC R-132
A sports-struck Paul lets Bridget do whatever she wants when she breaks up with Kyle and begins dating high school basketball wonder Travis "The Rainman" Smith, whose father just happens to be Michigan baseball legend Steve "Canned Heat" Smith. Meanwhile Kerry resents the fact that Paul still thinks of her as a little girl and not as a budding teenager ready to take on the dating world.
6
2
"Cheerleader"
James Widdoes
Story by : W. Bruce Cameron


Teleplay by : Paul Ciancarelli & David Dipietro

October 22, 2002

December 1, 2005 Sneak Peek Family Channel Canada

December 5, 2005 Series Premiere Family Channel Canada

102, SC R-131
Bridget is ecstatic when the cheerleading squad has an opening for a new member. But after telling Kerry that she is not cut out to be a cheerleader, Bridget is completely dumbfounded when her sister tries out and is chosen for the team. Meanwhile, Paul tries in vain to wean Rory off video games and introduce him to the world of books.
7
75
"Trick or Treehouse"
James Widdoes
Story by : W. Bruce Cameron


Teleplay by : Bonnie Kallman

October 29, 2002

September 10, 2006

323, SC R-136
Paul seems to be the only one looking forward to a family Halloween, as Bridget, Kerry and Rory make plans to spend the spooky evening away from home and with their friends. But Paul's wish to relive the past by having the family get together for one last Halloween campout in the old treehouse may turn out to be the biggest nightmare of the evening.
8
7
"By the Book"
James Widdoes
Paul Ciancarelli & David Dipietro
November 5, 2002

December 13, 2005

107, SC R-137
In an effort to win back the love and respect that his daughters used to show him when they were young, Paul turns to a parenting book for some quick advice. But when Bridget and Kerry discover Paul's teaching tool, they try to use it to their advantage to get their father to let them go to a rock festival. At the same time Bridget, and Kerry find it amusing to convince Rory that he's adopted while taking more advantage of their parents.
9
8
"Two Boys for Every Girl"
James Widdoes
Bill Callahan & Philip Wen
November 12, 2002

December 14, 2005

108, SC R-138
Paul's plan backfires when, after telling Bridget to tell Kyle the truth about her date with another boy, Kyle breaks up with her. Meanwhile, Kerry's first date turns out to be a dream, but she is devastated when the boy doesn't call her back. Paul sees how miserable both his daughters are, and plays the role of matchmaker.
10
9
"Give It Up"
James Widdoes
Martin Weiss
November 19, 2002

December 15, 2005

109, SC R-139
It's time for summer vacation, but the Hennessys can't decide where to go. Paul wants to go to their regular cabin at the lake, Rory's idea is Space Camp, Bridget wants to go to Mall of America, Cate wishes to visit her parents' condo while Kerry just wants to stay home. To settle the issue, Paul initiates a contest. Each family member must give up a bad habit, and the last person standing gets to pick the vacation. Rory, who gives up tattling, is the first to go, then Cate (coffee), and Bridget (telephone), leaving it down to just Paul (the television remote) and Kerry (sarcasm). To try to get her to break, Paul treats Kerry to dinner at a 50s-style diner, but during the meal he begins to worry that his daughter's constant sarcasm is hiding a deeper sadness.
11
11
"Paul Meets His Match"
James Widdoes
Story by : Dena Waxman


Teleplay by : Bonnie Kallman & Martin Weiss

November 26, 2002

December 20, 2005

111
Paul has no idea about how badly he has been treating Bridget and Kerry's boyfriends, until he sees his seemingly friendly new boss, Nick Sharpe, treat Rory in the same manner. Paul found out that Nick has the same situation as he has. This causes Paul to take a change of heart and give his daughters' boyfriends a chance.
12
12
"All I Want for Christmas"
James Widdoes
Christy Jacobs White
December 10, 2002

December 21, 2005

112, SC R-142
It's Christmas time, and Paul hopes to make this Christmas the best Christmas yet. When Paul asks what everyone would like, Rory says he wants a motorcycle, Bridget wants Kyle to spend the holiday with her, and Kerry wants to keep a stray dog she found. When Paul says that Kerry can't keep the dog, she is upset (as usual). Later, Paul writes a column encouraging people to adopt pets, which makes her feel better. Meanwhile, Cate gets the solo part at the Christmas Eve service, and she is nervous that her family will be there. On Christmas Eve, the family helps Kerry with the Pet Adoption Fair at the mall, where every dog, except the one she found, is given a home. Afterwards, they all go to the Christmas Eve service, where they hear Cate sing her solo of "Silent Night" When they get home, she says she is glad they came after all. Paul agrees to let the kids each open a present that night. Rory gets a chemistry set, much to Cate's chagrin, Bridget gets the company of Kyle, and Kerry gets to keep the dog she found. (However, the dog is never seen again on the show.)

The episode ends with Kaley Cuoco and Amy Davidson doing a promo for the Humane Society of the United States.

13
10
"Rory's Got a Girlfriend"
James Widdoes
Bill Daly
December 17, 2002

December 19, 2005

110, SC R-140
Rory has a girlfriend named Sabrina Jenkins, and he asks Paul if he can take her on a group date to the movies. Paul allows Rory to go, which outrages Bridget and Kerry because Rory is much younger than they were. Meanwhile, Kerry is upset when Bridget receives a higher test score than her. This leads everyone to think that Bridget is smarter than Kerry. But later on, Kerry receives a letter stating that there was a mistake in the scores and that she actually had the higher score. Not wanting to make Bridget upset, Cate tells Bridget that she got a magazine in the mail.
14
13
"Career Choices"
Terry Hughes
Amy Engelberg & Wendy Engelberg
January 7, 2003

December 22, 2005

113, SC R-143
Paul and Cate are shocked when they are called into the principal's office and informed that Bridget wants to skip her college prep classes in order to become an esthetician. Meanwhile, Paul is so impressed with Kerry's sketches of "The Incredible Boring Woman" that he gets the principal to print them in the school newspaper — not realizing that the principal is the "boring woman" in question. Kerry is upset because, as her punishment, she must make banners for the pep squad, but she tells Paul she does think it was kind of cool to have her artwork published.
15
15
"Kerry's Big Adventure"
James Widdoes
Tracy Gamble & Martin Weiss
January 21, 2003

December 26, 2005

115, SC R-145
After Kerry and her boyfriend break up, Paul tries to cheer up his blue daughter by getting Bridget to take her little sister with her to a party. But while talking to Kyle at the party, Kerry is shocked when a spark is ignited and the two share a romantic kiss. Paul and Cate try to discover what is hidden in Rory's secret box. They find Paul's sports articles, but Rory really has fireworks.
16
16
"Come and Knock on Our Door"
James Widdoes
Bill Callahan & Philip Wen
January 28, 2003

December 27, 2005

116, SC R-146
After finding out that she kissed Kyle, Bridget gives Kerry the silent treatment, which is anything but quiet for Paul. That night, Paul has a dream on the set of Three's Company (in which John Ritter rose to fame), which parodies the show right down to the last detail. In the dream, Kyle (Jack) pretends to be gay in order to fool Paul (Mr. Roper), so he can have Bridget (Chrissy) and Kerry (Janet). They are soon joined by Cate (Mrs. Roper) and Rory (Larry). Back in real life, Bridget goes to Kyle's new apartment to break up with him. (Not surprisingly, this was John Ritter's favorite episode of the first season.)
17
17
"Drummer Boy (Part 1)"
James Widdoes
Bill Daly
February 4, 2003

December 28, 2005

117, SC R-147
After Bridget is caught sneaking out of the house, she tells Paul and Cate that she has a dream of playing in an all-female band. Paul suggests she take up an instrument. Bridget chooses to take up drums. Paul hires her a drum instructor, named Ben (Nick Carter), who Bridget becomes infatuated with, but is much older than she is. Meanwhile, Kerry is upset with her ex-boyfriend, Jason, when he calls Cate pretty and feels she has to compete with against her mother and sister for attention.
18
18
"Drummer Boy (Part 2)"
James Widdoes
Janis Hirsch
February 11, 2003

December 29, 2005

118, SC R-148
When Bridget learns that Ben is leaving to go back to his college in Ohio, Bridget decides to follow him. To cover, she says she is going to a sleepover. Kerry invites herself along in hopes of foiling Bridget's plan, but Bridget ends up going to Ohio State University (where Ben goes to college) anyway. Later, Paul and Cate find out and go after them. Rory is reading To Kill a Mockingbird, and wants to find the part where the mockingbird is actually killed (not realizing that there isn't one at all).
19
19
"Cool Parent"
James Widdoes
Paul Ciancarelli & David Dipietro
February 18, 2003

January 2, 2006

119, SC R-149
After a party at Tommy's house is busted by the police, Paul takes the matter into his own hands by volunteering his house for the post-basketball finals party. During the party, Paul falls asleep, and the party gets out of control, as Paul finds all the kids sleeping the next morning. This causes him to lose popularity with the kids' parents, but the kids now find him cool. While Cate is at work the next evening, Kerry and Bridget allow some friends to come over, and it eventually turns into a party, but Bridget and Kerry call it a kid-pack, as it is less than 20 kids. Eventually, Cate comes home and convinces Paul to stop the party/kid-pack, which he does, which causes him to lose all popularity with the kids, and he returns to being the dorky parent the kids found him to be.

Meanwhile, when Paul tries to help Rory stick up to some bullies at school (though all they'd done was call him one name) at the beginning of the episode, it turns out that he was wearing slippers. He is then on referred to as "Slipper Dad". Rory is also humiliated by this. At the end of the episode, Rory dumps a whole box of slippers on Paul.

20
20
"Every Picture Tells a Story"
Mark Cendrowski
David Flebotte
February 25, 2003

January 3, 2006

120, SC R-150
Rory comes home with exciting news to tell Cate: the racecar driver Carter Tibbits has asked Paul to write a book about him. Carter has also invited the Hennessys over to his mansion for dinner. While there, Paul makes a joke to the kids: "$20 to whoever steals the best thing!" Paul seems to make a good impression on Carter, and it looks like Paul will get to write the book. But when they get home, they discover Rory took Paul's joke too far. It turns out that Rory stole a picture of Carter and Paul Newman. Paul sneaks to the mansion and returns the picture. Later, Carter's crew chief Cody Grant arrives at the house and tells Paul that Carter has turned down Paul's services. Paul was caught on a security camera when he was returning the picture, and he goes to Carter to straighten out the situation. While there, Rory confesses to having stolen the picture, and Paul was returning it. Carter sees something in Rory that he looks for in all the students in a program for at-risk kids that he runs: character. Carter asks Rory if there was anything he could get for him. It appears that Rory is going to ask Carter to reconsider having Paul write the book, but he ends up asking for the security camera tape with Paul on it (which annoys Paul to an extent). Meanwhile, Bridget has been constantly psycho-analyzing Kerry, which annoys her. So she gets back by telling Bridget that she has a disorder called narcissism.
21
14
"Kerry's Video"
Terry Hughes
Bonnie Kallman
March 11, 2003

December 22, 2005

114, SC R-144
Kerry devotes her school video project to Bridget to illustrate the hypocrisy that life is much easier for the beautiful people. But when Bridget discovers that the video makes her look shallow, she takes Paul's advice to enrich her life by taking up tennis again, and ends up with a broken nose. Bob and Mike Bryan, the No. 3-ranked tennis team in the world, make a cameo appearance on the tennis court.
22
22
"Good Moms Gone Wild"
James Widdoes
Bill Callahan & Philip Wen
March 25, 2003

January 5, 2006

122, SC R-153
While vacationing in Florida at Cate's parents' home, Paul and Cate catch Bridget and Kerry on the evening news partying with a group of Spring Breakers. But before a punishment can be implemented, the news runs archival footage that features a young, wild Cate letting loose in a bar, leading the girls to believe Cate is hypocritical. Meanwhile, a jealous Paul meets Byron, the man that Cate went out with during her college sophomore year, and Rory befriends Jake Fisher, an elderly gentleman whose stories about World War II turn out to be more fiction than fact.
23
21
"Career Woman"
Mark Cendrowski
Rosalind Moore
March 28, 2003

January 4, 2006

121, SC R-151
When Cate is offered a promotion at the hospital, Bridget is upset, as she depends on Cate to help her with her family tree project for school, while Kerry encourages her mom. However, when Cate is offered the promotion, she declines it, as it is too much stress on the family. It is revealed that Bridget wasn't really upset; she was just fooling Paul, and Kerry was trying to cover up the fact that she missed Cate. Meanwhile, Paul tries to introduce Rory to the world of baseball cards to take his mind off his monkey obsession. However, Rory manages to trade the cards for a monkey, which he names Kirk Gibson (possibly to fool Paul). The monkey remains hidden until the end of the episode, when everyone comes home and sees the mess the monkey made.
24
23
"Queen Bees and King Bees"
James Widdoes
Martin Weiss
April 8, 2003

January 9, 2006

123, SC R-152
Bridget and Paul are surprised to find themselves in similar situations when they are both alienated in their social circles. But they devise a plan to settle the score, leading Paul to crash a poker game with co-worker Tommy to get closer to boss Nick Sharpe, and Bridget trying to break up ex-boyfriend Kyle and her nemesis, Jenna.
25
24
"Bake Sale"
James Widdoes
Kim Friese
April 29, 2003

January 10, 2006

124, SC R-154
Bridget begrudgingly becomes a mother when she is assigned to take care of a baby made out of a sack full of flour for school. When Kerry and Rory bake cookies for the Great American Bake Sale to help put an end to childhood hunger in America, Bridget begins to notice that her baby is mysteriously losing weight.
26
28
"The Doyle Wedding"
Lynn McCracken
Rosalind Moore
May 6, 2003

January 16, 2006

128
Much to the family's dismay, Cate invites the Doyles over for dinner, which turns out to be a stressful evening for all. Later, the Doyles invite the Hennessys to a wedding for their daughter. As the family always follows through on prior commitments, Paul tries hard to find an excuse not to go to the wedding. Then Paul discovers that the play that Rory is in (in which he cross-dresses.) is on the same day as the Doyles' wedding. But when Paul gets ready to tell them they can't make it, the Doyles tell them that the Hennessys are like family to them. Paul changes his mind, and they go to the wedding, with Bridget and Kerry as the bridesmaids (they don't like the dresses, though), and Rory as the ring bearer. Meanwhile, Bridget has been avoiding Donny because she thinks he's dorky, but she ends up dancing with him at the wedding reception because she thinks he's now handsome.
27
25
"Sort of an Officer and a Gentleman (Part 1)"
James Widdoes
Heather MacGillvray & Linda Mathious
May 13, 2003

January 11, 2006

125
Cate learns that her sister Maggie is having marital problems. Paul thinks the family can help her, so he invites her to stay at the house, much to Cate's dismay, as the two sisters have a history of sibling rivalry. Meanwhile, Bridget has become more mature after Paul and Cate let her go out with Donny, who is home from the Naval Academy. Bridget and Kerry believe that Kyle has ulterior motives when he befriends Rory.
28
26
"Sort of an Officer and a Gentleman (Part 2)" AKA Finale Part II
James Widdoes
Janis Hirsch & Bonnie Kallman
May 20, 2003

January 11, 2006

126
The sibling rivalry between Cate and Maggie comes to a boiling point when Maggie gets a sexy new makeover and gives Bridget a water bra as a gift. Meanwhile tensions between the Hennessy sisters mount when Kerry and Kyle begin dating, while Bridget's popularity takes a nosedive after she dissed her friends for Donny, and Paul becomes concerned when he finds an empty pregnancy test kit, which turns out to be Cate's.
Season 2 (2003 2004) Astral Media Family Channel Canada Season Premiere January 17, 2006 and Season Finale February 27, 2006
[
]
Episodes in USA
Episodes in Canada
Title
Directed by
Written by
Original air date

USA and Canada

Prod.
 

code

29
31
"Premiere"
James Widdoes
Tracy Gamble
September 23, 2003

January 19, 2006

203
Bridget finds her popularity waning because of her exclusive, long distance relationship with Donny, while Kerry's social status skyrockets because of her relationship with Kyle. But Bridget's eyes begin to stray when she meets Damien (Paul Wesley) — a sexy new boy at school. Meanwhile, as she waits for the results of her pregnancy test, Cate is stunned and angry when Paul, Bridget, Kerry and Rory seem more concerned about how the baby could disrupt their lives than the blessed event itself. In fact, the only support Cate seems to be getting is from her nosy neighbors, the Doyles, who share a well-kept secret about their own family — namely, all their children are adopted.
30
29
"Sex Ed"
Robby Benson
Gayle Abrams
September 30, 2003

January 17, 2006

201
Cate teaches sex education at Bridget's school and gets suspicious when she reads a submission where a girl's older boyfriend was coming from Maryland and she felt pressured to have sex. Bridget tries to cover it up by saying that this was a girl from Maryland, Lara O'Neal (which turned out to be made-up; Bridget herself was the one who wrote the question). Meanwhile, Paul is worried about Kerry after they saw a French movie with a sex scene in it.
31
30
"Donny Goes AWOL"
Robby Benson
Seth Kurland
October 7, 2003

January 18, 2006

202
The Doyles are sending a video postcard to Donny, which they let Bridget have a part in. However, Bridget breaks up with Donny on the video, which leads to a feud between the Hennessys and the Doyles. Upset, Donny hitchhikes all the way to the Hennessys in the back of a pig truck to win Bridget back; however, Bridget has still not broken up with her other boyfriend, Damien. Meanwhile, there are reports of eggings and toilet-paperings all over the neighborhood. Paul tries to come up with names for this menace, unaware that the criminal is Rory.Note: This was John Ritter's final episode. In his memory, clips of his past two years on the show are shown, ending with the message: "John Ritter 1948–2003 We will never forget you".
32
32
"Goodbye (Part 1)"
James Widdoes
David Flebotte & Martin Weiss
November 4, 2003

January 23, 2006

204
On what begins as just another morning in the Hennessy household, Cate receives a phone call. Seconds later, she hangs up and runs out of the house in tears, leaving the kids to wonder what is going on. It's soon revealed that Paul had collapsed and died in the grocery store. Everyone is heartbroken. Later that evening, Cate's separated parents Jim and Laura arrive to help them through their grief. Bridget is wracked with guilt over the last words she ever said to her dad (which were "I hate you") and Kerry tries to talk to her to ease her guilt. Cate is afraid of sleeping alone in her bed and sleeps on the couch.
33
33
"Goodbye (Part 2)"
James Widdoes
Tracy Gamble & Bonnie Kallman
November 4, 2003

January 24, 2006

205
After Paul's funeral, friends and neighbors gather at the Hennessys' for the wake. Nick Sharpe asks Cate to find the last article Paul wrote so the newspaper can publish it in his memory. When Kerry asks Rory why his hand is bandaged, he says he burned it on a casserole dish while taking it out of the oven; it's later revealed he had punched a hole in his wall out of anger towards his dad for dying. The next day, Jim finds Paul's last article and gives it to Cate. That night, Cate is finally ready to sleep in her own bed again; she is joined by the kids who want her to read Paul's article, which she does. It's an article about how no matter how much his kids may resent him from time to time, Paul knows that deep down, they love him, even when they say "I hate you;" this helps Bridget to finally overcome her guilt. Cate and the kids rely on the message Paul is sending them: no matter what happens, family bonds are never broken.
34
34
"No Right Way"
James Widdoes
Gayle Abrams
November 11, 2003

January 25, 2006

206
It's been two weeks since Paul died, and the kids are going back to school for the first time. Bridget jumps right back into her social circle and begins planning the upcoming dance while Kerry refuses to allow herself to feel anything but sad, and feels worse when Kyle declares his love for her believing he's only saying it to try and make her feel better. Cate's attempts to help her daughters only backfire. Bridget buys a revealing dress for the dance, but just before she can leave the house wearing it, she breaks down in tears, knowing that Paul would never have allowed her to, and accepts she still needs to grieve. Kyle reassures Kerry that he meant his declaration of love, and she starts to allow herself to feel happy again. Meanwhile, Rory worries that he is taking advantage of a girl he has a crush on who is offering to help him catch up with his school, but Jim advises him that she's the one taking advantage and to let her.
35
35
"What Dad Would Want"
James Widdoes
Bill Daly
November 18, 2003

January 26, 2006

207
Cate sees that Rory is now hesitant to try out for the basketball team because Paul had been helping him practice. Cate tells him that his father wouldn't have wanted him to quit. The newspaper Paul worked at is sponsoring a scholarship dinner in his name for students majoring in journalism, and Bridget gets distracted while watching television, and accidentally wrecks a collage that Kerry had made of Paul for the dinner. When it's announced at the party that Rory made the team, Rory angrily storms out. Cate later finds out that Rory didn't make the team and when Rory comes home, he says he only said it because he was embarrassed that he let down his dad. But he's happy when Cate tells him because the coach was impressed at his request to work out with the team, he's now officially on it.
36
36
"The First Thanksgiving"
James Widdoes
Bonnie Kallman
November 25, 2003

January 30, 2006

208
It's the first Thanksgiving without Paul. Cate's mother visits, and manages to get along well with Jim. Bridget and Kerry plan to sneak out to a party instead of staying with the family. Rory feels that, now he's the man of the house, it's his job to assume Paul's role of being against every guy his sisters date, not to mention the carver of the turkey — which he does with clumsiness, inexperience and a lot of humor, which in the end helps the family to make it through the first of many milestones without Paul.
37
37
"The Story of Anne Frank and Skeevy"
James Widdoes
Tracy Gamble & Bonnie Kallman
December 23, 2003

January 31, 2006

209
Bridget plays the role of Anne Frank in the school play, which makes Kerry jealous, since all she does is background work. At first, Bridget is the same non-serious girl, which frustrates Kerry even more since she feels Bridget doesn't deserve the role. Cate sees this too, so she gives Bridget The Diary of a Young Girl, because she thinks it might help her, which it does – Bridget suddenly becomes a serious, focused girl and gets a better understanding of the role she is going to play. Rory gets a ventriloquist dummy he names Skeevy and uses it to constantly make fun of other people. Cate, Jim, and Rory attend the play and Bridget's performance is excellent. When they get home, Kerry tells Bridget she's proud of her. Cate is too and wonders how Bridget did it and tells her she tapped into some very serious emotion. The episode ends with Bridget staying behind downstairs after everyone goes to bed. She puts a red rose on Paul's desk in front of a picture of him and whispers, "Good night" before going upstairs.
38
38
"YMCA"
James Widdoes
Donald Beck & Bonnie Kallman
January 6, 2004

February 1, 2006

210
Bridget gets a job as a lifeguard at the local YMCA, which prompts Cate to enroll the whole family (to Bridget's chagrin). However, Kerry is unimpressed with a group of young blonde girls who idolize Bridget, while Jim punches another man for making comments about Bridget. Elsewhere Rory has an unexpected pubescent experience in a yoga class.Note: This is the first appearance of David Spade as C.J.
39
39
"Get Real"
James Widdoes
Seth Kurland & Ric Swartzlander
January 13, 2004

February 2, 2006

211
Cate's nephew C.J. stops by the Hennessy household to pay his final respects to Paul. C.J., however, can't resist getting into trouble when he gives Rory advice about kissing a girl, which lands him in detention, and then takes the blame when Kerry, while driving with just a learner's permit, dents Cate's car while driving Bridget on an errand.
40
40
"Consequences"
James Widdoes
Bill Callahan
January 27, 2004

February 6, 2006

212
Rory steals a police dog when he hears about C.J.'s glory days of stealing his old school mascot, but Cate is shocked when the dog finds marijuana in Kerry's backpack. Cate thinks Kerry's using drugs because of her father's death, but it's really just teenage rebellion. Meanwhile, Bridget gets brought home by the police for not wearing a helmet on her boyfriend's motorcycle after Cate telling her she has to.
41
41
"Opposites Attract (Part 1)"
James Widdoes
Gayle Abrams
February 10, 2004

February 7, 2006

213
In a Valentine's Day special, Bridget is forced to partner with geeky Jeremy (Jonathan Taylor Thomas) in Science class, and ends up falling for him. Meanwhile Kyle decides to take Kerry's stance against a commercialized Valentine's Day, only for him to surprise her with a romantic gift she wasn't expecting.
42
42
"Opposites Attract (Part 2)"
James Widdoes
Paul Ciancarelli & David Dipietro
February 17, 2004

February 8, 2006

214
Bridget decides to make a move on Jeremy by going to a 'geek party' with Kerry, only to discover that Jeremy has his eyes on someone else. C.J's van catches on fire, while Jim moves out of Rory's room.
43
43
"Opposites Attract: Night of the Locust (Part 3)"
James Widdoes
Bill Callahan & Bill Daly
February 24, 2004

February 9, 2006

215
After being told that she's fickle when it comes to relationships, Bridget is afraid that she may end up hurting Jeremy's feelings when her ex-bad boy boyfriend, Damian, returns to town. Meanwhile, Kerry is outraged and plans revenge when "provocative" dancing has been banned from the high school formal, which is being chaperoned by Cate and Jim; C.J. partners with Rory to broadcast school scandals over the Internet, and Jim falls for Ms. McKenna (Tatum O'Neal), a member of the high school's PTA committee.
44
44
"Daddy's Girl"
James Widdoes
Dave Flebotte & Tracy Gamble
March 2, 2004

February 13, 2006

216
The family therapist (Peter Bogdanovich) encourages Cate to pursue her dream of becoming a singer (her "skydiving", as the therapist puts it). In turn, Cate encourages C.J. to end his feud with Jim, so he takes him to the bar where Cate is singing. Bridget accidentally dyes Kerry's hair blonde.

Katey Sagal (Cate) performs the song "Daddy's Girl" from her 2004 album "Room".

45
47
"Mall in the Family"
James Widdoes
Tamiko K. Brooks & Christy Jacobs White
March 16, 2004

February 16, 2006

219
Kerry gets a job at an embarrassing fast food restaurant at the mall to make money for her trip to Europe. Grandpa wants to pay his fair share at Cate's house and also gets a job there. However, Kerry might have to fire her grandfather for treating customers with disdain at the fast food restaurant. C.J. has a job as a security consultant at the mall, and he takes it very seriously. He then busts Bridget for going into the wrong movie theatre at the mall, interrogates her and tries to ban her from the mall (which he can't do). His supervisor (Inny Clemons) tells him that all he had to do was charge Bridget admission and let her go. Rory sells items on the Internet, but Cate gets angry when he sells too much.
46
45
"Let's Keep Going (Part 1)"
James Widdoes
Martin Weiss
March 30, 2004

February 14, 2006

217
After Bridget, Kerry and Rory vote against going on vacation to the cabin at the lake, Cate orders Bridget and Kerry to fly out to visit Grandma Laura in Sarasota instead of attending the Maeve Festival, believing the festival to contain "sex, drugs, and rock and roll". However, on their way to the airport in Kyle's car, the girls spot Cate hugging a mysterious stranger at their dad's favorite bar. Meanwhile, Rory, even though he is dating Missy Kleinfeld, develops an interest in Rachel Sharpe.
47
46
"Let's Keep Going (Part 2)"
James Widdoes
Martin Weiss
April 6, 2004

February 15, 2006

218
Upset and confused over their mother's behaviour, Bridget and Kerry decide not to go to their grandma's, and instead take a road trip to sort out their feelings. Along the way, they pick up C.J., who has been attacked by a group of women at the Maeve Festival. Then, when they think they are lost, they realize that they have arrived at the cabin at the lake, a place Paul loved. Later, Cate, Jim, Rory, and Kyle meet up with them, and Cate tells them that the last time they were there, Paul tried carving the name Hennessey on a wall behind a picture, before giving up when he cut his thumb. Cate removes the picture and everyone is amazed but sad when they see "HI" carved into the wall.
48
48
"C.J.'s Party"
James Widdoes
Paul Ciancarelli & David Dipietro
April 20, 2004

February 20, 2006

220
Cate banishes C.J. and grounds Bridget for going to C.J.'s college keg party. Jim has to take a written drivers exam after being pulled over with an expired license. As Kerry is getting a license too, Grandpa tries to cheat off her, with unexpected results.
49
49
"Mother's Day"
Pat Doak
Grant Nieporte & Robert Spina
May 4, 2004

February 21, 2006

221
Bridget and Kerry are up to something, and Cate is determined to find out what. She discovers that they were planning to send her away for a Mother's Day spa weekend, only to realise they were planning to throw a party while she was gone. Meanwhile, Rory sets up a Car Wash.
50
52
"The Principal"
Lynn McCracken
Seth Kurland
May 11, 2004

February 27, 2006

224
Bridget gets in trouble at school, prompting a meeting between Cate and Principal Gibb (Adam Arkin) who turns out to be an old schoolmate.
51
27

50

"Finalé Part Un (Part 1)"
James Widdoes
Bonnie Kallman & Martin Weiss
May 18, 2004

January 12, 2006

February 22, 2006

127

222

After forgetting to hand in a form for Kerry's trip to Europe, Cate is forced to deal with Principal Gibb again. Elsewhere, Cate also has to deal with Jim's relationship with Tina (Connie Stevens), who owns the bar where Cate sang "Daddy's Girl".
52
27

51

"Finalé Part Deux (Part 2)"
James Widdoes
Bill Callahan & Bill Daly
May 18, 2004

January 12, 2006

February 23, 2006

127

223

Kerry organizes a sit-in to protest at frog dissection in school, and Bridget takes the blame so that Kerry will still be able to go on her trip to Europe in the summer. As a result, Bridget is elected student body president. Meanwhile Jim plans a summer road trip with Rory to Florida, where he hopes to win back his wife; C.J. deludes himself into believing that Steven Tyler wants him to be Aerosmith's roadie; this turns out to be true, but C.J., after Rory expresses his excitement about C.J.'s joining them, passes it up and joins Rory and Jim on their trip instead
Season 3 (2004 2005) Astral Media Family Channel Canada Season Premiere February 28, 2006 & Series Finale December 23, 2006
[
]
Episodes in USA
Episodes in Canada
Title
Directed by
Written by
Original air date

USA and Canada

Prod.


code

53
54
"First Day of School"
James Widdoes
Kathy Ann Stumpe
September 24, 2004

March 1, 2006

302
Kerry continues to delay breaking up with Kyle, so Bridget does it for her – only for Kerry to realize she doesn't want to break up with him after all. Meanwhile, Cate is offered the position of a school nurse, and Rory's first day of high school is awkward when he has to hit the showers after gym.
54
53
"Changes"
James Widdoes
Seth Kurland
October 1, 2004

February 28, 2006

301
Originally intended to be the season premiere, it was aired as the second episode after a mix-up with production codes/dates. The kids are suspicious of Cate after she changes her hairstyle and her bedroom while they were away during the summer. Rory tries to help Jim quit smoking. Kerry confides in C.J and Bridget that she lost her virginity to a guy named Bruno on her Europe vacation.
55
55
"The School Nurse"
James Widdoes
Rob Hanning
October 8, 2004

March 2, 2006

303
After Cate accepts the position of school nurse, Bridget and Kerry are convinced that she only took the job to spy on them. Rory, however, is ecstatic that his mother might be able to protect him from the school bully. When Cate starts yelling at Bridget for getting a tattoo and why she can't be good like Kerry, Bridget accidentally blurts out Kerry's secret (the loss of her virginity) which a horrified Cate accidentally reveals to the whole school via PA.
56
56
"Out of the Box"
James Widdoes
Martin Weiss
October 15, 2004

March 6, 2006

304
Kerry is livid when Bridget unintentionally makes a mockery out of her art project at the mall. But she quickly forgets about Bridget when fellow artist and young hottie Tyler asks her out on a date. However Tyler's intentions may not be completely genuine. Meanwhile, while C.J. finds himself striking out at speed dating, Jim discovers that he's a hit with the ladies-which further humiliates his socially inept grandson.
57
57
"Car Trouble"
James Widdoes
Hayes Jackson
October 22, 2004

March 7, 2006

305
Bridget and Kerry are very excited when Cate gives them keys to the minivan, with a single provision: They must drive Rory wherever he needs to go. But when the girls refuse to fulfill their promise, Rory decides to take matters into his own hands, and makes an attempt to drive himself to impress a girl named Marni (Tiffany Thornton) that he likes, and in the process wrecks the car.
58
76
"Halloween"
Lynn McCracken
Steve Baldikoski & Bryan Behar
October 29, 2004

October 28, 2006

324
Kerry doesn't feel that Bridget has the ability to put together the school's Halloween party as part of her duty as the Student Body President. Bridget has a mix-up and kisses the jealous vice-president instead of her crush, Pete. C.J. is hired as the security guard for the party and sets his eyes on catching Rory pulling off a prank by blowing up the giant pumpkin. Instead, when he catches Rory, Rory calls up the costumed Village People, bringing back C.J.'s bad memories. Jim finds himself being attacked by neighborhood kids when he refuses to give candy out to trick-or-treaters.
59
58
"Coach"


AKA "Tennis Coach"

James Widdoes
Laurie Gelman
November 5, 2004

March 8, 2006

306
There is a new tennis coach who Bridget likes, so she joins the tennis team to get his attention. She also makes him a tennis racket cover using Cate's favourite sweater. However, the coach actually has a secret crush on the school nurse, Cate.
60
59
"Secrets"
James Widdoes
Bonnie Kallman
November 12, 2004

March 9, 2006

307
It seems everyone in the Hennessy household is keeping secrets – Rory refuses to tell who hit him, Bridget and Kerry use fake ID's to get into a nightclub and while waiting in line, Bridget meets a cute guy (Shawn) who turns out to be a cop who she gave her number to, the coach who likes Cate whom Bridget likes keeps trying to get Cate to agree to go on a date with him, and C.J while asked to buy Rory's medication instead goes to a bar and gives him candy for medicine but C.J is expecting the pharmacist to call. Now all they have to do is get to the phone first, but it ends with Bridget finding out about Cate and the coach, and the cop arriving and C.J is left humiliated.
61
61
"Thanksgiving Guest"


AKA "Thanksgiving"

James Widdoes
Story by : Dena Waxman


Teleplay by : Tamiko K. Brooks & Rob Hanning

November 26, 2004

March 14, 2006

309
After the garage is burned down, due to a turkey fryer explosion, Cate recalls yesterday's Thanksgiving celebrations, which involved the kids trying to prepare everything to give Cate a break, Jim attempting to fix the TV and Cate bringing home Principal Gibb.
62
60
"Vanity Unfair"
James Widdoes
Paul Ciancarelli & David Dipietro
December 3, 2004

March 13, 2006

308
After Bridget is turned down for a role in a sports car commercial, Jim discovers that the head of the modeling agency who rejected her is his old flame Jackie (Raquel Welch). When he tries to persuade her to reconsider his granddaughter, Jim soon finds himself reminiscing over old times – and possibly rekindling their romance. Meanwhile, Kerry and Rory discover a secret about C.J.'s past modeling experiences.
63
62
"Princetown Girl"
James Widdoes
Tamiko K. Brooks
December 10, 2004

March 15, 2006

310
Kerry is stunned to discover that Bridget may be getting a tennis scholarship at Princeton University. However, failing grades prevent her being able to play, so Cate wonders if she should use her power as school nurse to help.Note: The title is an intentional play on words combining the university name of "Princeton" with that of a "town girl."
64
77
"A Very C.J. Christmas"


"A Very Cool Christmas"

James Widdoes
Kathy Ann Stumpe
December 17, 2004

December 23, 2006

325
C.J. goes to Las Vegas for Christmas rather than spend time with the family even though they spent a lot of time and effort making Christmas special for him.
65
63
"The Sub"
James Widdoes
Steve Baldikoski & Bryan Behar
January 7, 2005

March 16, 2006

311
Principal Gibb hires C.J. as a substitute teacher. Everything goes well until C.J. catches Rory cheating on a test, and he wrestles with his conscience over whether or not to tell Principal Gibb.
66
64
"C.J.'s Temptation"
James Widdoes
Steve Baldikoski & Bryan Behar
January 7, 2005

March 20, 2006

312
Cate finds herself becoming jealous of Principal Gibb's new girlfriend Cheryl, while C.J. attempts to tutor her – and unwittingly becomes the object of her affections. Rory discovers "self pleasure". And his pants are caught down… literally.
67
65
"Old Flame"
James Widdoes
John Peaslee & Judd Pillot
January 14, 2005

March 21, 2006

313
When Cate sends an email to her former college flame Matt (played by Katey Sagal's Married... with Children co-star, Ed O'Neill) to see how he has been over the years since college, she becomes fed up with her family's unreasonable demands, and locks herself in her room for some alone time. But she is shocked when Matt shows up at her window and whisks her off to re-live adventurous, old times. However, Cate soon begins to question if his rebel lifestyle is being used as a front.
68
66
"Closure"
James Widdoes
Seth Kurland
January 21, 2005

March 22, 2006

314
C.J. and Cate have found out that Kerry has been emailing to Bruno (Kyle Howard), the boy she met in Europe. They meet in Cate's attic and they get back together while C.J. and Cate have been reading Kerry's emails and print them out. Rory dates a girl called Riley.
69
67
"Volleybrawl"
Barnet Kellman
Hayes Jackson
January 28, 2005

March 23, 2006

315
Cate's alleged antics at Kerry's volleyball game threaten to make her team forfeit the match. Meanwhile, C.J. has a crush on Kerry's volleyball coach (former pro beach volleyball player Gabrielle Reece), and Bridget becomes upset when one of her friends begins dating her ex-boyfriend.
70
68
"Freaky Friday"
James Widdoes
W. Bruce Cameron
February 4, 2005

March 27, 2006

316
Cate watches Freaky Friday, then falls asleep, dreaming the family wake up in different bodies: Bridget swaps with Cate, C.J. swaps with Grandpa and Rory swaps with his hamster. Kerry is still herself. Grandpa in C.J.'s body tries to hit on the older school examiner while C.J. in Grandpa must tell war stories to the class. Bridget in Cate's body flubs the nurse test and Cate in Bridget makes Bridget go to prom with a dork.
71
69
"Torn Between Two Lovers"
James Widdoes
John Peaslee & Judd Pillot
February 11, 2005

March 28, 2006

317
C.J. finds himself in a bad situation – he's committed himself to two different dates: Cheryl, Principal Gibb's ex-girlfriend, and Bridget and Kerry's high school math teacher, Mrs. Krupp. Meanwhile, Bridget's excitement about being elected to the court of the Valentine's dance and being given a chance to be crowned Queen of Hearts quickly becomes shock when she discovers that Cheryl is also running in the competition.
72
70
"C.J.'s Real Dad"
James Widdoes
Rob Hanning
February 18, 2005

March 29, 2006

318
C.J. is offered a job as a full-time teacher, which he really wants, but when his biological father comes to town he convinces C.J. to assist him in a new book telling about how they came together after being apart for years. Meanwhile, Kerry is upset when Bridget accidentally wins an MP3 player from a radio contest.
73
72
"The After Party"
Patricia Doak
Grant Nieporte & Robert Spina
March 4, 2005

April 3, 2006

320
Prom night is around the corner, and Bridget wants to throw a safe after-prom party in a hotel. Cate tells her no, but later, C.J. tells her if there isn't a place to party, the kids will find one. So, Cate decides to throw the after party at the house, which humiliates Rory, Kerry and Bridget. During the after-party, Bridget sneaks out to the hotel to throw her after party. C.J. tracks her down, but ends up getting tied up on top of a TV in a hotel room. Meanwhile, Kerry has written an article about gay couples going to the prom. A girl named Monica (Vanessa Lengies) asks Kerry to be her prom date, so they can "turn a few heads for the cause", but Kerry starts to get the impression that Monica really likes her as a girlfriend. It also turns out that Rory's prom date, Nicky Alcott (Leighton Meester), is gay, which disappoints Rory.
74
74
"The Teachers' Lounge"
James Widdoes
Paul Ciancarelli & David Dipietro
April 1, 2005

April 5, 2006

322
C.J. gets a job as a full-time teacher, and he is excited as he now has access to the teachers' lounge. But one of the teachers, Mr. Edwards, is bullying him, to the point where he kicks C.J. out of the lounge, so Cate helps him with his problem. Meanwhile, Kerry and Bridget give Rory a makeover so he can impress a girl named 'Hot Megan'.
75
71
"The Sleepover"
James Widdoes
John Peaslee & Judd Pillot
April 8, 2005

March 30, 2006

319
After Principal Gibb and Cate fall asleep at the house while watching a movie, the family catches them and falsely assumes that the two are having a relationship. Meanwhile, Bridget, Kerry, Rory and C.J. are forced to go ice-fishing with Jim in order to spend quality time with their grandfather – but unbeknownst to them, Jim would much rather be left alone and is forced to keep up a happy facade.
76
73
"Ditch Day"
James Widdoes
Jeremiah Leibowitz
April 15, 2005

April 4, 2006

321
After C.J. discovers that Cate may be starting a clandestine relationship with Principal Gibb, he blabs it to Bridget. An angry Cate gets even by having Gibb put C.J. in charge of the detention of students on Ditch Day, and C.J. gets even by detaining Bridget. Meanwhile, because she is stuck in detention and can't complete the ditch day prank herself, Bridget convinces Kerry and Rory to steal the rival school's mascot.