Kyle
General Information
Gender:
Male
Age:
16 (Season 1)
17 (Season 2)
18 (Season 3)
Hair Color:
brown
Occupation(s):
High School Student
Family & Friends
Family:
Tommy (Father)
Friends:
Bridget Hennessy, Kerry Hennessy, Cate Hennessy, Rory Hennessy, Rachel Sharpe, Jenna Sharpe, Jim Egan, C J Barnes, Paul Hennessy (sometimes)
Relationships:
Bridget Hennessy (Season 1, Ex-Girlfriend)
Kerry Hennessy (Season 2, ex-girlfriend)
Enemies:
Paul Hennessy (Occasionally), Bruno
Other Information
Interests:
football
Series Information
First appearance:
Pilot
Last appearance:
The School Nurse
Portrayed By:
Billy Aaron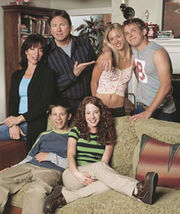 Kyle is portrayed by Billy Aaron Brown. Billy was born in Clarinda, Iowa. He attended Clarinda High School, and moved to Los Angeles to become an actor at 18 just after graduating.
Kyle is a recurring character in the show who spends most of the shows run as Bridget's boyfriend. He begins a relationship with Kerry in the season 1 episode "Sort of an Officer and a Gentleman" and ends in the season 3 episode "The School Nurse".